What's It Wednesday #108
My home features art from around the world which includes the Caribbean. My favorites are from Jamaica, the Dominican Republic, Trinidad and Cuba. Haitian art has always been one of my favorite with its roots grounded in Africa, mixed with European aesthetics, and a tinge of religious flavor.
Haitian sculptures are made from natural materials such such as this one carved from a large piece of bamboo, traditional mediums such as canvas, and recycle materials like a piece of tin or the top of an oil drum.
Haitian artists, who deal in wood, are masters at wood carvings. The precision is amazing and the local wood, such as mahogany, utilized are simply beautiful.
This lady carrying her goods over head has been a part of our family for a very long time. We have always felt that she is the keeper of our home. She is not only beautiful, but absolutely magical.
This little fella is older than me. He use to reside in my grand-mother's home. As a little girl, I often wondered what he was carrying in his sack. Was it flour or was it rice?
Haitian mahogany is used to create wood vases that are not only beautiful but completely utilitarian.
On January 12th, 2010, Haiti was struck by a catastrophic earthquake. Living in South Florida, we are reminded of the resilience of the people of Haiti and continue to support the possibilities and hope of this island nation. As our family reflected on the four year anniversary of the devastating earthquake, I write this post as an Ode to Haiti.
(Unity is Strength - Haitian Motto)
Thanks to all of you who partied with us last week. Please link-up and join us again. Remember, it's not a party without you!


Here are this Week's Features:
Don't Forget to Add a Feature Button!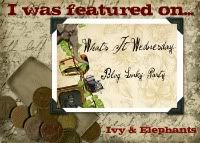 Come show off your whatchamacallits, what is its, what it once was,

and "hey, look what I just did"
posts. In other words, what you created, organized, designed or re-designed, found, purchased, transformed, inherited, re-purposed, renovated, are selling, or giving-away.