I don't know if you've met my fur baby, Peeka. She stole my heart as a 6 week old orphan, and has been my constant companion for the last 8 years.
This is her dining table. Her crystal water bowl and flow blue food dish, served on what else? A silver tray!
Beautiful framed artwork for the perfect ambiance,
and a soft comfy spot in Mama's bed.
Doesn't every kitty store her treats in a crystal pickle caster? LOL
This is my adorable fur baby, who brings much love and joy to our family.
Patti
Thanks to all of you who partied with us last week. Please link-up and join us again. Remember, it's not a party without you!
Don't Forget to Add a Feature Button!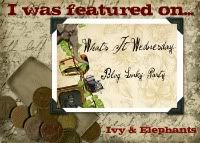 Come show off your whatchamacallits, what is its, what it once was, and "hey, look what I just did" posts. In other words, what you created, organized, designed or re-designed, found, purchased, transformed, inherited, re-purposed, renovated, are selling, or giving-away.