What's It Wednesday #156
Spring is just around the corner and I have already started my Spring Cleaning projects.
As much as I love silver, I hate tarnish. I am one of the few people, that I know, who actually like and enjoy polishing silver, with the help of my son. I have quite a bit of silver all over the house, so my issue is where to find the time to polish it all. I usually do it in batches...but no more.
So when I found this simple cleaning solution, it completely appealed to the science nerd in me. Basic Chemistry and a few items I already had around the house was the perfect combination.
All you need is aluminum foil, a cup of baking soda, a cup of salt, a cup of vinegar, and boiling hot water. I promise you it is super simple. No chemistry degree required.
First you completely line your sink with the aluminum foil.
Then you toss in the baking soda and the salt into the sink.
Now add the vinegar and pour your hot water. I filled the sink about half-way. Submerge each piece for about 5 minutes, making sure that each one touches the aluminum foil. Then watch the magic take place. No polishing required. I used a microfiber cloth to dry each piece.
These pieces don't look at day over a 100 years old.
I wasn't planning on doing the brides baskets yet but this was so easy I grabbed all of them as well.
It took no time to polish all of these pieces. I may as well pull out all of my silver jewelry and get started. Easy peasy lemon squeezie, as my kids say. Polishing silver doesn't have to be a major task, or an expensive undertaking. It's Chemistry!
Do you have any super cool cleaning tricks you can share with us?
Thanks to all of you who partied with us last week. Please link-up and join us again. Remember, it's not a party without you!
Here Are This Week's Features:
Don't Forget to Add a Feature Button!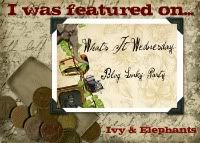 Come show off your whatchamacallits, what is its, what it once was, and "hey, look what I just did" posts. In other words, what you created, organized, designed or re-designed, found, purchased, transformed, inherited, re-purposed, renovated, are selling, or giving-away.