Sorry to use such strong language, but I have no choice, because this… is a darning egg. A practical sewing implement that was used to repair holes in socks, stockings, gloves, silks, wools… everything! A darning egg was placed beneath the fabric and a matching shade of thread or yarn was used to finely stitch the frayed material back together. It was less visible and a much better match than a patch.
This darning egg is wood with a silver handle from the late 1800s. Sewing was a key pastime ands a practical skill that all young ladies were required to have. That said, you can find sewing implements that are quite ornately carved or embossed and made from precious materials such as ivory, silver, gold, or jade. Sewing scissor holders, thimbles, needle cases and other chatelaines were monogrammed and given as gifts.
This sweet darner is for darning gloves, hence the long shaft with double ends of different sizes. Darling!
This black wooden darner has a gorgeous silver inlay piece. This would add a bit of style without the price of a full silver handle.
I found this fun and novel darner (and the cool box!) when I was on vacation in Kansas City. A figural darning egg of a lady made of porcelain with the message "Darn It" at the bottom. Aren't the little blue feet precious? The box with the verse was just so fun I has to have it too!
This darner is made from blown glass. I've not run across another yet. I thought one in every color would make a nice bouquet in a glass vase, right?
Darn it, I hope you found something of interest in this post that might cause you to "darn it" too. Hmm… like a milk glass bowl of them displayed in your sewing or crafts room perhaps? Just saying!
And

thank

you all for participating in our
"What's It Wednesday"
linky party!
Don't forget to grab a feature button.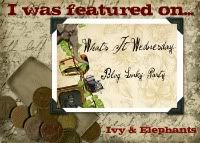 Here are this week's features: