Ok so Fall does not technically begin until 10:29p.m. EDT, on September 22nd (Can you tell I am a nerd?). For some reason, I am already in an Autumn frame of mind. So out came the Apple Pumpkin and the Autumn Leaves Yankee Candles to put us right in the mood.
Although, where I live the leaves don't actually turn, I can pretend that they do with a Fall center piece on the dining table.
I have to admit, Spring is my absolute fave season but this year I am totally digging the oranges, yellows, reds, golds, dark greens, and browns. Oh those little pumpkins make me want to bake a couple of delicious Fall inspired pies.
I am not even feeling particularly pressed to get into the spirit of the season at all. Just feeling extra joyous these days and extremely grateful. I am in the mood to just have fun and enjoy the winding down of 2014. This Fall Season I am going to really embrace the "100 Days of Holidays".
Normally I am quite put off by the early arrival of seasonal items. This year, I think I am just down-rite giddy. Is there anyone else feeling the spirit of the Fall season other than me?
Thanks to all of you who partied with us last week. Please link-up and join us again. Remember, it's not a party without you!
Here Are This Week's Features:
Don't Forget to Add a Feature Button!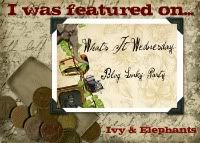 Come show off your whatchamacallits, what is its, what it once was, and "hey, look what I just did" posts. In other words, what you created, organized, designed or re-designed, found, purchased, transformed, inherited, re-purposed, renovated, are selling, or giving-away.