Happy New Year blogland family! From the beginning of the new year I started off planning organization, entertaining, and decorating projects. Of course it teeters off by the end of the summer. I wanted to buy some new garden chairs but Santa took all of my money. I did the next best thing...a refurb, a redo, a what-ever-you-want-to-call-it, in an effort to save money and start my first project of the new year.
I had two very heavy iron chairs my Mom gave us. Once upon a time they were a beautiful dark gray. I wanted new iron chairs, but they are a bit pricey. So I ran down to my local Lowes and got sand paper, tarp, 3 cans of Valspar Outdoor Spray Paint in white, and face masks. Hubby bought seat cushions and pillows. I am so proud of him!
I first sanded down each chair. Truth be told I went to Lowes twice. I initially bought 1 can of spray paint thinking that would be more than enough. It took a can and a 1/2 for each chair. Once the sanding was completed, I spray painted the chairs and voila.
We are surrounded by beautiful nurseries and farms. My son and daughter chose these beautiful orchids to hang from the tree near the nearly new garden chairs. Wish me luck with those please. I really don't have a green thumb when it comes to orchids but they will be my 2016 challenge.
By the way, apparently I am accident prone because the other day I accidentally fell inside a Home Goods and then accidentally found a metal garden table and brought it home. Perfect project companion.
What projects are you starting off the new year with? I am looking for more trouble to get into.
Here are this Week's Features:
Don't Forget to Add a Feature Button!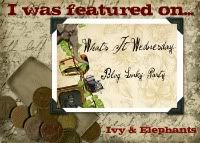 We are partying with these fine folks: