What's It Wednesday #90
"Ye are the salt of the earth: but if the salt have lost his savour, wherewith shall it be salted? it is thenceforth good for nothing, but to be cast out, and to be trodden under foot of men"
(King James Version, Matthew 5:13).
To be called "salt of the earth" is to be of great worth and reliability. A worker who is "worth his salt", is a precious commodity.
Long before it sat in pretty shakers on our dinner tables salt or sodium chloride was recognized as an essential element in the diet of humans, animals, and even some plants.
Salt was in general use long before recorded history in religious ceremonies, as a method of trade, and as currency.
It is no wonder that like sugar and tea, it has so many forms and uniquely designed containers.
My favorite are these old cut crystal shakers with silver tops. Look at the one with the lovely mother of pearl, love it! I like grouping the different varieties that I find.
This pretty swan individual salt cellar has its own serving spoon. I top my individual cellars with broaches to make ring holders.
Oh well, "back to the salt mines!"
Thanks to all of you who partied with us last week. Please link-up and join us again. Remember, it's not a party without you!
Here are this Week's Features:
Don't Forget to Add a Feature Button!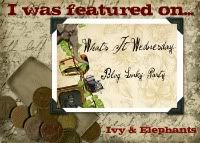 Come show off your whatchamacallits, what is its, what it once was,
and "hey, look what I just did"
posts. In other words, what you created, organized, designed or re-designed, found, purchased, transformed, inherited, re-purposed, renovated, are selling, or giving-away.