I have finally made it out onto the front porch with my Fall decor.
I decided to elicit the help of my two little ones. They were so excited to assist me. We went to our local grocery store and each of them picked out their very own pumpkin and I picked out Fall colored flowers.
I can't carve a pumpkin to save my life. So, we turned the pumpkins into planters instead.
Michael's had the cutest scarecrows for $5.00 so each of the kids picked out one. My daughter chose this one and placed it on her side of the porch with all of the flowers.
My son chose an assortment of gourds to place inside of a birdcage, on his side of the porch, full of succulents he planted in the summer.
He found this cute turkey to keep watch in the birdcage for $3.00 at Michael's.
We added a few crows around the porch to add a little mystery.
My son decorated his side of the front porch with a boy scarecrow, a green pumpkin, gourds in the birdcage, and pumpkins on the cage.
I have to thank my little helpers for their hard work and willingness to clean out the pumpkins.
What are some cool Fall things you have put on your front porch?
Paula
Thanks to all of you who partied with us last week. Please link-up and join us again. Remember, it's not a party without you!
Here Are This Week's Features:
Don't Forget to Add a Feature Button!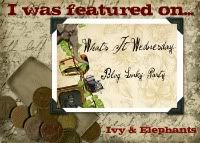 Come show off your whatchamacallits, what is its, what it once was, and "hey, look what I just did" posts. In other words, what you created, organized, designed or re-designed, found, purchased, transformed, inherited, re-purposed, renovated, are selling, or giving-away.