Living in South Florida where real fall colors are at a premium, I wanted to share this gorgeous arrangement my darling daughter and little grandson sent me, just because. I love the punch of robust color added to the softness of the peach roses and white hydrangeas. I actually spilled some of the water because I didn't think they were real!
Even though we stay green pretty much all year in Miami, we do love decorating for the seasons. This is a little vignette I put together for the entry table. Of course, I included some wheat and an acorn for good luck!
This little side table got the bright reds and oranges that are balanced by some classic blue and white. I think it's a great compliment to any décor.
Outside you'd be surprised what your local dollar store can yield. With a little bit of color blending my ten dollar investment reaped an arrangement fit to grace any home. I found the cornucopia at Goodwill for $2.00, yea!
This lovely arrangement was just the inspiration I needed to put me in the mood for Fall. Thank you my two sweeties!
Patti
Thanks to all of you who partied with us last week. Please link-up and join us again. Remember, it's not a party without you!
Here Are This Week's Features:
Ranger 911
Revisionary Life
Penny's Vintage Home
Lee Caroline
At Home with Jemma
Crafts A La Mode
Don't Forget to Add a Feature Button!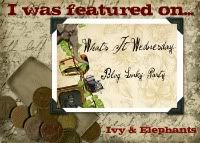 Come show off your whatchamacallits, what is its, what it once was, and "hey, look what I just did" posts. In other words, what you created, organized, designed or re-designed, found, purchased, transformed, inherited, re-purposed, renovated, are selling, or giving-away.